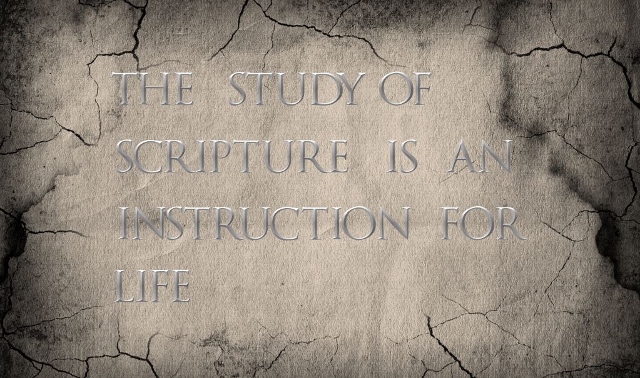 The study of inspired Scripture is the chief way of finding our duty, for in it we find both instruction about conduct and the lives of blessed men, delivered in writing, as some breathing images of godly living, for the imitation of their good works. Hence, in whatever respect each one feels himself deficient, devoting himself to this imitation, he finds, as from some dispensary, the due medicine for his ailment. He who loves chastity dwells upon the history of Joseph, and from him learns chaste actions, finding him not only possessed of self-command over pleasure, but virtuously-minded in habit. He is taught endurance by Job who, not only when the circumstances of life began to turn against him, and in one moment he was plunged from wealth into penury, and from being the father of fair children into childlessness, remained the same, keeping the disposition of his soul all through uncrushed, but was not even stirred to anger against the friends who came to comfort him, and trampled on him, and aggravated his troubles.
Or should he be inquiring how to be at once meek and great-hearted, hearty against sin, meek towards men, he will find David noble in warlike exploits, meek and unruffled as regards revenge on enemies. Such, too, was Moses rising up with great heart upon sinners against God, but with meek soul bearing their evil speaking against himself. Thus, generally, as painters, when they are painting from other pictures, constantly look at the model, and do their best to transfer its fine details to their own work, so too must he who is desirous of rendering himself perfect in all branches of excellency, keep his eyes turned to the lives of the saints as though to living and moving statues, and make their virtue his own by imitation.
Prayers, too, after reading, find the soul fresher, and more vigorously stirred by love towards God. And that prayer is good which imprints a clear idea of God in the soul; and having God established in self by means of memory is God's indwelling. Thus we become God's temple, when the continuity of our recollection is not severed by earthly cares; when the mind is harassed by no sudden sensations; when the worshiper rests from all things and retreats to God, drawing away all the feelings that invite him to self-indulgence, and passes his time in the pursuits that lead to virtue.