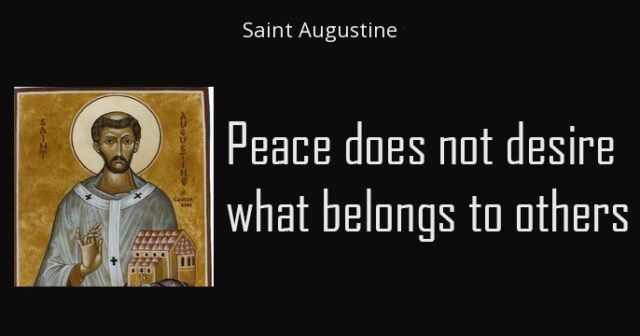 This is not the kind of peace that is merely external and temporary, affected by circumstances and changing with the factors of time, eventually fading and ending. Instead, the Lord grants us His very essence of peace. He is both the giver and the gift at the same time. He is the 'Giver of Peace' and our 'Peace' simultaneously. We will not accept any alternative to Him; we will only find rest and comfort in Him. As it is said, 'I have told you these things, so that in me you may have peace' (John 16:33).
The peace is the legacy that the Lord promised to His disciples before His crucifixion, saying, 'Peace I leave with you; my peace I give you.' Anyone who wishes to be an heir to Christ must possess the peace of Christ and dwell in it. When this true peace fills the heart, it overflows to the whole soul, creating a sense of internal peace and harmony with everyone around, regardless of their provocations and troubles.
Thus, one who does not possess the genuine peace of Christ cannot reconcile with all people, especially those who provoke him. Conversely, one who does not strive to make peace and bear the provocations of others will not enjoy divine peace. If we do not forgive, we will not be forgiven, and we will be measured by the same standard we use on others. Our peace with God and people are intertwined; they are gifts from God's grace, fruits of the Spirit, and always the focus of our struggles.
Peace is the soundness of the mind, tranquility of the soul, simplicity of the heart, bond of love, and the companion of affection. It eradicates enmities, halts wars, deflects anger, breaks pride, loves the humble, soothes the quarrelers, reconciles adversaries, and is both delightful and acceptable in society.
Peace does not desire what belongs to others; it doesn't see anything as solely its own, thus not withholding from others.
Peace teaches love, so it never hates. Peace teaches one to elevate himself without being arrogant. Peace is a sign of holiness. Every individual should strive for peace, dear brethren, for whoever lives in holy peace lives always in God and becomes a partner with the saints in the company of God.