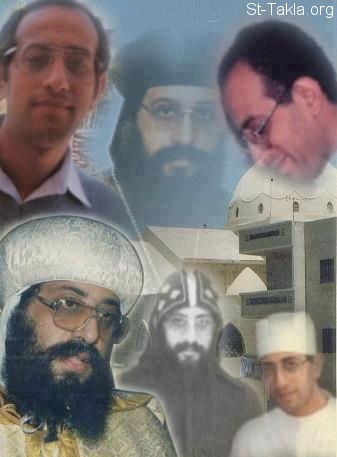 Born Wagih Subhi Baky Soliman in the Delta region of Mansoura, Egypt on the 4th of November 1952. His father passed away when Wagih was only 13 years old, and was mostly raised by his uncles, two of whom are Fr Youhana Baky from St Mark's church in Heliopolis and the late Fr Antonious Baky who served in New York.
His family later moved to Damanhur, capital of the Delta's Beheira governorate. In Damanhur, he went to the a Coptic school, where his Christian education began. Here he was directed largely by the school's headmistress, who also happened to be the sister of reigning Coptic pope, Cyril VI.
At the age of 14 Wagih's church was visited by HE Anba Pachomious, Metropolitan of Behera, and chose Wagih to serve in his youth group, thus making Anba Pachomious a very influential part of Wagih's life.
Wagih's schooling continued, he received a scholarship from Britian's International Health Institute and at the age of 23 he graduated from the University of Alexandria with a Bachelors degree in Pharmacy in 1975, he then managed a state run pharmaceutical factory in Damanhur. In 1983, he graduated from the Coptic Church's Clerical College.
In 1986, at age 34 he heard God's call for him to leave the world in search of something more, consequently he ventured in to the wilderness of Wadi-Natrun, to the monastery of the great St Bishoy, where he was ordained by the name Fr Theodore St Bishoy, a name inspired by his discipleship to HE Anba Pachomious, as St Theodore was the disciple of the great St Pachomious the father of communal monastic life. Two years later, he was ordained a Coptic Orthodox priest.
In 1997, Fr Theodore was ordained H.G. Bishop Tawadros, general bishop of Beheira and auxiliary to Archbishop Pachomios, with a special emphasis on serving the youth and the children of his diocese. This did not, however, stop him from pursuing his formal education. In 1999, he obtained a joint degree in pharmaceutical engineering, business administration and Christian education from a university in Singapore.
On Sunday the 4th of November 2012 after a three day fast and after a divine liturgy with all the members of the Holy Synod the Lord choose H.G.
Bishop Tawadros to be H.H. Pope Tawadros II Pope and Patriarch of the great city of Alexandria and the Sea of St Mark.
Tawadros is an ancient Coptic name, similar to the Greek name 'Theodoros.' the name – which literally means 'Gift of God' – is often spelt 'Tadros.'
In an interview immediately after his Papal rank was announced, he said that " I did not expect this to happen, and I am unworthy, but it is upon God's grace that we rely on, and I pray for God's grace to rest on me."
When asked what some of his main concerns were he said that he wanted to keep and further organise the church in regards to Administrative work, Church services, communication, secretarial and specialised offices.
With clear evidence of his discipleship to both HE Metropolitan Pachomious and HH Pope Shenouda 3rd; he stated that, the Pope of the Coptic Church is not just Pope for the Coptic people, but for all Egyptians, therefore I have an open heart for all who live in Egypt and he considers himself a servant of all. This statement clearly highlights to me that this holy man undoubtedly has what it takes to lead God's people; true love and obedience to his Creator, and a heart after His own Heart.