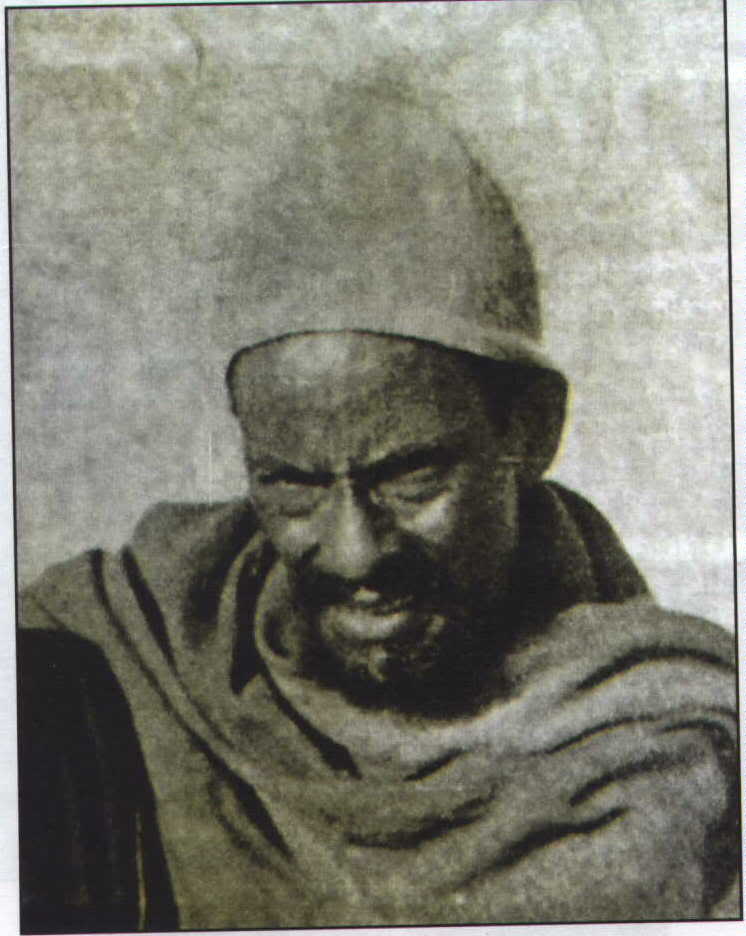 Today, 4.5 km west of Dair el-Baramous is one of the few inhabited caves in the ancient Desert of Scetis. Abuna Abd el-Mesih elHabashi has lived there since about 1935. Of the three caves, two are used by him. Some of the equipment of Abuna Abd el-Mesih is without doubt Second World War material. This solitary goes to the Dair el-Baramous weekly to obtain water, which he carries in an old gasoline tin on his head, as well as some bread. A number of years ago he would carry the tin full of water. Today, however, due to his age, he can carry it only half-filled. Abuna Abd el-Mesih is a great story-teller. During the Second World War, at the time of Field marshal Rommel's advance in North Africa, one night the British saw a small fire in the desert around Dair el-Baramous, and believing it to be that of a German spy, they began to shoot, almost killing Abuna Abd el-Mesih. Later on, the British apologized to Abuna Abd el-Mesih, using the good offices of the monks of Dair al-Baramous .
Though peculiar in many ways, Abuna Abd el-Mesih was, and still is, a real inspiration to several Egyptian monks who cherish him greatly. Thus Abuna Matta el-Maskin (now at Dair Anba Samwil) wanted to live with him. The Ethiopian, however, in true Antonian manner, refused to allow Abuna Matta to come close to him. Only after five days of continuous persistence and by leading an exemplary eremitical life, did the Ethiopian receive Abuna Matta who then stayed with him for several months. Another hermit influenced by the example of Abuna Abd el-Mesih is Abuna Antonius el-Suriany (H.H. Pope Shenouda III), who also lived for a time in one of the caves near those of the Ethiopian solitary.
I have visited Abuna Abd el-Mesih at two different occasions and was impressed by his utter indifference to the world. It was difficult for the solitary to understand that a German could be in Egypt, and that, furthermore, a German could also be a Christian. "A German is not, no, never a Christian, for Germans don't believe in God." His strong anti-German reaction is due undoubtedly to his war experience, where he was taken by the British for a German spy.
The food which we brought along, the hermit refused, expressing his disgust by informing us that he would give it to the Bedouins. "God gives me my daily bread, you don't have to come and feed me." While trying to convince him that he should eat a little more to keep, healthy, he merely answered: "When I am sick I enjoy the blessings of God even more, what else can I want than the blessings of God." When Abuna Antonius suggested a wooden door for his cell he merely retorted : "A wolf doesn't need a door, does he?" He continued his discourse by saying: "All the monks, for that matter especially those at Dair el-Baramous and, Dair el-Surian are making war against me, telling me to eat and eat. "They should know better that when you eat oil and fish (sardines), the devil will visit you at night, and you are at the mercy of the devil." In 1958, Abuna Abd el-Mesih left his cave for the first time to be taken to a physician in Alexandria. The doctor admonished him to eat, but the food which he received from him he merely passed on to the driver of the car. "My doctor is Jesus Christ, my food is Jesus Christ, my fuel is Jesus Christ."
The personality of Abuna Abd el-Mesih reveals many characteristics of Oriental psychology, and it is not easy for the Western Christian to understand the dynamics of this solitary monk. That these however, are real, is evident from the influence he has had on, at least: three people who already have made a distinct contribution to the Christian Church in Egypt: Abuna Matta el-Maskin, Abuna Antonius el-Suriany and Abuna Mina el-Muttawahad el-Baramusy or Anba Kyrillos VI, the 116th Patriarch.