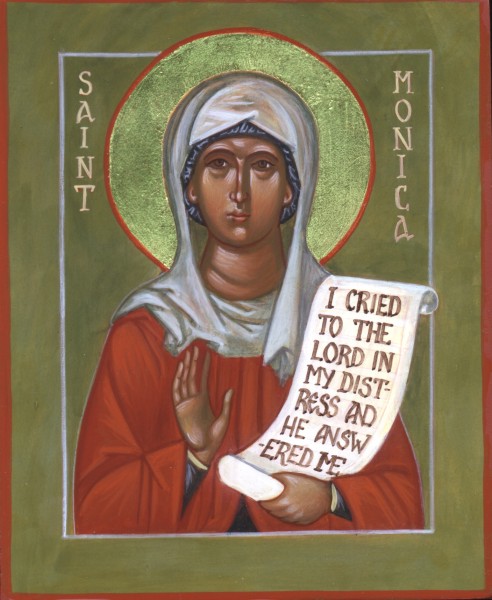 Saint Arsenius is one of the saints who became very famous for his weeping. It is said that his eyelashes fell due to the intensity of his weeping, and that two cavities formed on his cheeks because of his weeping. During summer he would wet the palm leaves with his tears, and he placed a piece of cloth on his knees for his tears to fall on. At the time of his death he wept intensely and his disciples said to him, "Truly, Father, are you also afraid?" "Indeed," he answered them, "the fear which is mine at this hour has been with me ever since I became a monk."
If the great Saint Arsenius wept like this, then what can we say about ourselves? What can we say about the fear of this hour that accompanied him? Who did it accompany? It accompanied the great Arsenius, the model of solitude and silence in "The Paradise of the Fathers", whom Pope Theophilus desired to meet. The saints used to say to him, "Why do you avoid us?" He replied, "God knows that I love you, but I cannot live with God and with men". Arsenius the great was the one who stood for prayer at sunset, the sun being behind him and remained standing to pray until sunrise the next day, spending the whole night in prayer. The humble Arsenius, the tutor of princes, was the one who consulted an Egyptian peasant and said, "I have indeed been taught Latin and Greek, but I do not know even the Alpha Veta which this Egyptian knows, and I do not know even how to pick beans with the monks of Scetis".
What sin did Saint Arsenius commit , to weep and fear this hour? After all of this, do we hurry towards comfort and joy at beginning of the path and boast that our sins have been forgiven? We then search for gifts? We ask for our share in the inheritance? We then forget ourselves! Tears need contrition of heart. It is also very suitable here for a person to know himself, to account for it and blame it.
It is said that at the time of the death of Saint Arsenius, Pope Theophilus said, "Truly you are blessed, Abba Arsenius, for you wept all your life for the sake of this hour".
When Abba Poemen heard that Saint Arsenius was dead, he said weeping, "Truly you are blessed, Abba Arsenius, for you wept for yourself in this world!" "He who does not weep for himself here, below, will weep eternally hereafter; so it is impossible not to weep, either voluntarily or when compelled through suffering." David the prophet who experienced tears very well in his life was right in saying, "Those who sow in tears shall reap in joy" (Ps 126:5).
The saints had great sensitivity, regarding sin as being very wrong and that it hurts God's loving heart. They did not think about the punishment for sin, but they thought about the feelings of God and that they had not pleased Him as yet, despite the great loftiness that they had reached in spiritual life. They see that this (short coming) when measured to the perfection they are aiming for, is the sin they are weeping over.
Weeping here is not in order for the Lord to forgive him a sin, for David the prophet wept after the Lord had forgiven him his sin. This was after Nathan the prophet had said to him, "The Lord also has put away your sin; you shall not die". (2 Sam 12:13). The sensitive person does not only weep for the sake of asking for forgiveness. He weeps however, because he grieves over himself: How did he reach the level of falling, how did he grieve the Holy Spirit Who dwells in him and with all courage broke the commandments of the loving God, Who created him in His image and likeness and so he lost this image by his sins.
The remembrance of the Judgment brings about tears, especially if it is accompanied by the remembrance of one's sins and weeping over them. How difficult is the phrase, "(He) will render to each one according to his deeds"! Or the phrase, "and their works follow them"!
I wonder, of what type are these works which will follow us? Are they worthy of tears? In remembering the Judgment, the person also remembers God's justice. That is why the Church places in front of us this truth everyday in "The Prayer Before Sleeping", in which the person praying says, "Behold, I am about to stand before the Just Judge in fear because of my numerous sins…". In remembering the Judgment and sin, we remember also the saying of the apostle: "It is a fearful thing to fall into the hands of the living God." (Heb 10:31) Fear also, is one of the vital reasons for tears. We mean here, fear for spiritual reasons and not fear for the sake of worldly matters, as occurs to some people.
My brother, weep here, so that the Lord will wipe away every tear from your eyes in the age to come.